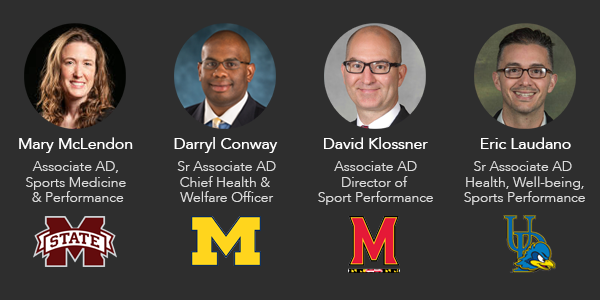 A recent, yet important trend in athletics departments is to assign one person the responsibility of overseeing all aspects of student-athlete (SA) health & well-being. This includes all of athletic training, athletic performance (S&C, etc.), sports psychology, nutrition, team physicians, etc. In this Experts' Roundtable, we've selected four individuals who hold this prominent post at institutions around the country, and asked them four questions relative to their position, its responsibilities, and the industry as a whole.
The position you hold is very unique, why was it important for your department to have one position ultimately responsible for all student-athlete health & well-being?  
Mary McLendon (Associate AD, Sports Medicine & Performance, Mississippi State University): Fortunately, I think this type of position is becoming less unique and more common across the nation. Our Athletics Director (AD) at the time (Scott Stricklin who is now at the University of Florida) and our Senior Associate AD for Finance approached me over a year ago about making this kind of change. I thought it would be a great move and found myself excited to lead that type of department.
We structured the department to make strength, sports medicine, nutrition, and mental health to be one team which improves the SA experience. The idea of strength and conditioning as a part of this team and not only seen as a part of the coaching staff is ingenious. The level of knowledge, education, and professionalism of our strength staff is incredible.
Darryl Conway (Senior Associate AD, Chief Health & Welfare Officer, University of Michigan): Previously, all of the units that I currently supervise were separate and worked within their own silos. Each had different supervisors, no definitive strategic direction, and often limited administrative subject matter expertise. As a department that values the health and well-being of our student-athletes, it was important to organize those units under the same "umbrella" with medical direction from the team physicians and administrative leadership from a credentialed/licensed health care provider. This move would ultimately increase communication, collaboration, and partnership between all units. This also included the campus and local medical communities.
David Klossner (Associate AD, Director of Sport Performance, University of Maryland): Student-athlete well-being is our highest priority. The scope of NCAA legislation and professional best practices in this area has grown substantially over the last decade. This leadership position fosters collaboration and cooperation between all areas of sports performance to ensure the best service and treatment for all participants. These areas include physician services, athletic training, sports nutrition, strength and conditioning, chiropractic care, physical therapy, massage therapy, and sport psychology. This interdisciplinary approach focuses on shared budgets, resource coordination, effective communication, research collaborations, and staff development leading to the highest quality care for student-athletes in every sport. In addition, I also serve as the designated NCAA Athletics Health Care Administrator. In this position, I am charged with coordinating health and safety legislation, resources, and inter-association recommendations.       
Eric Laudano (Senior Associate AD for Health, Well-being, and Sports Performance, University of Delaware): University of Delaware Athletics operates with an entrepreneurial mindset and strategic intention to ensure we are providing the necessary resources to our student-athletes, coaches, staff, and teams. My specific position is the result of our Athletic Director's vision to establish a single reporting line for all areas related to health, well-being, and sport performance. As a member of the Senior Leadership Team, the position is recognized and valued as an integral part of the overall operations of the department.
In this role, I am responsible for building an all-encompassing Wellness Performance Team with administrative oversight of the departments of Athletic Training, Strength and Conditioning, Sports Nutrition, Sport Psychology, and Equipment Operations. By having someone to oversee all areas from an administrative standpoint, the heads of each department are able to efficiently concentrate on their daily clinical duties, grow and develop their personnel, and increase operational efficiencies in order to provide a higher standard of care.
I also meet with personnel from the university's Science Technology and Advanced Research Campus, School of Engineering, Employee Health and Well-being, Center for Counseling and Student Development, Dining Services, School of Agriculture, School of Health Sciences, Recreation Services, Student Health Services, and various other campus departments. We believe our collaborative impact extends beyond the four years our student-athletes are with us.
What areas of concern do you advise your AD on and how do you make the decision when to provide that information?  
McLendon (Mississippi State): I advise on all areas of nutrition, strength, mental health, and sports medicine with input from my staff in each department. Most issues in our department can be addressed in-house, but I loop in the AD if there are potential concerns where he may have to field questions. I want to make sure he has details before he receives any inquiries.
I am also fortunate to be one of eleven people involved in the weekly Executive Staff meetings. This puts me in front of the AD and allows me to interact with that group on a weekly basis. I think this is really crucial in terms of communication, and I recommend anyone with a similar position be given the same opportunity. For me, it is an opportunity to share information about what is happening in my areas but also to educate this group. They are all Senior Associate ADs who serve as sport administrators and are very open to knowing more about how my department helps our student-athletes.
Conway (Michigan): I generally advise the AD on any items including, but not limited to sports medicine, performance nutrition, strength & conditioning, equipment operations, performance psychology-athletic counseling, substance abuse, rest-recovery-regeneration, equipment operations, research initiatives, analytics, facilities design, time demands, and many other areas. My philosophy regarding communicating with the AD is to provide high-quality communication with no surprises. I triage issues and needs while making sure any emergent concerns are communicated immediately, in-person or via phone call. For non-urgent information, I disseminate information as necessary.
Klossner (Maryland): I communicate regularly on how we are striving to meet the AD's vision for delivering state-of-the-art SA health care and sports performance services so we can set new benchmarks and anticipate any challenges or financial needs. Timely notifications are required for hospitalizations, medical disqualifications, accidents, contract negotiations, litigation, personnel changes, and budgetary outliers.
Laudano (Delaware): As a member of the Senior Leadership Team, the AD and I communicate almost daily. We have a very honest, open, and accessible relationship. It is important that she knows and understands what is happening within this realm of college athletics. She and I discuss all personnel related issues, each area as a whole including the Wellness Performance Division. We also discuss the great things that are happening within Delaware Athletics, and brainstorm on how to make our people and units better. I am very fortunate to have the support and ability for these discussions to occur. This, along with strong relationships with the other senior leadership staff keeps Delaware athletics strong and allows us to support our mission of Inspiring Greatness Together.

What do you see as the biggest ongoing issue relative to SA health & well-being in the athletics industry and how do you address it on your campus?  
McLendon (Mississippi State): Mental health is obviously a hot topic right now and for good reason. There are a lot of demands on our student-athletes from their sport and in their personal lives. We are currently adding a full-time position in our department to give the student-athletes improved access to a professional who understands their needs.
Conway (Michigan): I would say that there are currently four (4) main issues relative to SA Health & Welfare. All of these issues are intertwined in a student-athlete's everyday life. At the University of Michigan, we pay special attention to each of these items:
Time Demands – Student-athletes are asked to do a tremendous amount of work to participate, while expected to be great in their chosen sport. They also have many other demands on them related to being an athlete, a student, and let alone an 18-22 year old. Because of this, they are frequently over-scheduled and the areas that are usually compromised are academics, sleep, and nutrition.
Mental Health – Today, students are under increased stress related to their sport, academics, and social life. Many more are entering school with pre-existing mental health conditions. Fortunately, the stigma of having mental health issues is decreasing and many more student-athletes are seeking assistance. The conditions span the spectrum from debilitating psychological conditions (e.g., suicidal ideation) to attaining peak performance.
Rest, Recovery, & Regeneration – Most student-athletes do not get the appropriate amount of sleep on a daily basis. As discussed previously, this is mostly due to the increasing time demands. Lack of appropriate rest, recovery, and regeneration can lead to increased injuries, decreased reaction time, increased mental health issues, and decreased academic performance.
Lifetime Wellness – Within the athletics industry, there is an increased emphasis on life after athletics. We must assist student-athletes as they prepare themselves in all areas for post-athletics success. This includes, but is not limited to nutrition, general health & medicine, physical fitness, leadership, career planning, life skills, and financial fitness.
Klossner (Maryland): As with most campuses, we are continually identifying new ways to support our student-athletes. In recent years, the NCAA has focused a light on the importance of addressing mental health. We have created a multiple provider program where student-athletes can seek services from counselors, psychologists, and psychiatrists within athletics, at our campus counseling center, and in the community. We leverage free campus services, work with community providers to seek insurance reimbursement, and negotiate service fee rates for direct payment. Our goal is to provide ongoing support for success on the field, in the classroom, and throughout life.       
Laudano (Delaware): The level of overall stressors student-athletes face today is tremendous. These include academic performance, athletic performance, interpersonal relationships, transitioning into college, job searches, transitioning to a post-athletics career, and many more. Multiple stressors can lead to multiple issues affecting both personal wellness and performance outcomes. There have been tremendous steps made nationally to provide resources, open up topics for discussions, address the issues facing college athletes, and assist athletics departments with tools to provide support.
A critical component of assisting student-athletes in these areas is to have strong campus partnerships. We have been very diligent to foster relationships with key departments outside of athletics. We have also have a full time Sports Nutritionist and Sport Psychologist so we can ensure we are meeting our student-athletes needs from a holistic perspective.
What is the next big investment coming to the health and wellness world of athletics?
McLendon (Mississippi State): We will be making an additional investment in staffing in the next few years. With the coming changes to athletic training education programs, we will need to transition graduate assistants to full-time staff. This is a great benefit to our student-athletes, since it will improve the athlete to Certified Athletic Trainer ratio. Even looking beyond those changes, there will always be a continuing need quality staff in all areas of health and welfare. Nutrition and strength programs are at their best when there is personal interaction and connection with student-athletes. The bottom line is….people are always a good investment.  
Conway (Michigan): In my humble opinion, the emphasis will be a continuation of high-level investment in the four initiatives I outlined in question number three. The industry as a whole will spend more resources improving the day-to-day lives of the student-athlete in all areas, including life after athletics.
I can also see a big investment in the world of performance science and analytics. I believe this are is increasing in relevance all over the world and athletics will continue the trend through research, collaboration, and enhanced partnerships.
Klossner (Maryland): I am encouraged by how many of the Power 5 schools have plans for building new facilities to support SA health care and performance. The next big investments will be fueling all student-athletes; individualized player analytics; and extended wellness services supporting athletics-related injuries after college. At Maryland, we have short term and long term plans for each of these areas.    
Laudano (Delaware): Personnel – It is important to emphasize the core areas and people who have laid the foundation for SA health and well-being. I am referring to Athletic Trainers, Physicians, Equipment Personnel, and Strength & Conditioning Coaches. These professions should continue to grow and develop as they have proven to be an integral part of SA wellness. Ensuring they are a part of the decision making process and understanding why they are integral to the future growth of the athletics industry is imperative.
Technology – Sports Performance technology and data analytics has been, and will continue to be an area of interest and investment. Technology can assist in proactive planning, injury prevention, activity management, and overall recovery. This can also create a human dynamic and open up conversations between athletes and health and performance professionals that may otherwise not occur. Utilizing data to open conversations with athletes can have a profound effect on unearthing underlying issues the athlete may not have thought of, may not have brought forth, and/or may not know needs to be addressed.
Sleep – I believe sleep, ways to track it accurately, and the associated impact on injuries, mental health, recovery, and overall performance will be a big topic on the horizon. Sleep has gotten a lot of attention in the past few years, but as research develops and technology incorporates sleep, this area can be a big difference maker not only in physical and mental health, but also with academic performance.    
Facilities – The arms race of facilities and embedded healthcare entities is a major investment in the world of college athletics. These types of facilities allow for better time management, increased standard of care, increased communication, and a space for student-athletes to interact and engage with one another.
Mental Health and Nutrition – Mental health professionals and Sports Nutritionists are two worthy investments for athletics departments. Both of these professions have profound effects on the holistic development of student-athletes.  It is important to understand how well Sport Psychologists and Sports Nutritionists complement each other, and how they benefit other healthcare professionals. This leads to an overall better SA health and wellness department.