College athletics exists in a business environment unlike any other.
University presidents are tasked with managing massive organizations, often with billion-dollar budgets and tens of thousands of employees. Contained within is an organizational unit –athletics – whose operating structure and mission are fundamentally different from the rest of the university. And yet, it is the performance of these athletics departments – whose multi-million dollar budgets are often a blip on the radar in the grander scheme – that often dictates the vast majority of the university's outside perception. No matter how many students it graduates, Nobel laureates it produces and ground-breaking discoveries it makes, nothing will ever come close to generating the same type of positive marketing buzz for the university that winning big in sports does.
How in the world do universities make sense of the complex dichotomy and competing interests of academia and athletics? The most logical answer, of course, is that they hire well-educated and experienced administrators to work together in solving these problems. Yet this solution only brings forth an even more important and challenging riddle – how do university presidents and athletic directors manage to work together despite the often competing priorities of the operations they manage?
In 2015 alone there were more than 50 athletic director changes on the Division I level, a turnover of more than 15%! While some of these can be attributed to labor mechanisms like frictional unemployment (i.e., retirement, moving to a higher-paying job), such high turnover among executives with comparably high compensation rates in other industries is rare. Thus, a reasonable explanation as to why so many athletic directors left their jobs is because of termination or resignation. This suggests that there is something causing a rift between athletic directors and university presidents.
To gain insight into this issue, we asked athletic administrators from different levels of college athletics how they interact with their president or chancellor. While each leader has a unique relationship with his superior, a deeper look reveals that there are a number of common themes that arise regardless of each institution's overall investment in sports. It should come as no surprise that when we asked presidents similar questions in previous sessions, their answers were, for the most part, in sync with their athletic administrator counterparts. For this case our interview subjects include: Chris Del Conte –Director of Intercollegiate Athletics at Texas Christian University, Ed McLaughlin – Director of Athletics at Virginia Commonwealth University, Peter Pilling – Director of Athletics at Columbia University, and Devin Crosby – Director of Athletics at Lynn University.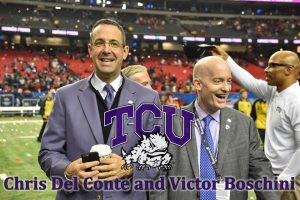 What is the relationship like between you and your president?
You would be hard pressed to find an athletics director and chancellor with a stronger working relationship than Victor Boschini and I. When I arrived at TCU in 2009, he made it clear that the mission of the athletics department is critical to the university, but he would make available any and all resources necessary for us to get into a new conference and build a new football stadium. Chancellor Boschini recognizes that in large university settings, deans and other department leaders need to have as much autonomy as possible in order to remain both agile and adaptable to the rapidly changing conditions of higher education and college athletics. Of course, he also expects that we reciprocate our self-sufficiency by having a continuous and unfettered line of communication with him at all times. While Chancellor Boschini and I meet only every few weeks, there is never a moment in which he is not informed of the pertinent happenings of the athletics department, good or bad.
Do university presidents tend to be too hands-on or hands-off in their dealings with their athletics departments? Which do you prefer?
When you're the president of a large university, you should have a pulse on the athletics program, but it probably wouldn't be prudent for you to micromanage the department. While I think we're at the point that most leaders in higher education appreciate that athletics is very much an integral part of the fiber of a university community, there are also those on the extreme ends of the spectrum that tend to give too much attention to the minutiae of the day-to-day. Fortunately, Chancellor Boschini has time and again made it clear that he trusts me fully to run our athletics program and that independence has allowed me to thrive as a leader. That being said, we have a mutual agreement that any and all decisions I make, put the university's best interests, and not the athletics department, first and foremost.
Truth is, I would hate to work for someone that had no interest in being at least peripherally interested in the day to day happenings of the athletics program. It would be like having a spouse you never spoke to. Even if you have total trust in the employees you place to oversee a project, you still have to show that you care about their work.
How is the relationship between presidents and athletics directors changing? Can these changes cause conflict?
The enterprise has changed, and thus the relationship has changed. The amount of attention and complexity surrounding college sports has increased dramatically over the last few decades. And while the core goals of amateur athletics have stayed the same, the president's involvement in the overall direction of the program has become absolutely necessary to accomplish anything because there are so many moving parts to the equation.
That being said, I do think that the outside world sometimes forgets that while the athletics department may be the most visible part of the university, its overall impact to the university's bottom line is minuscule. Even at TCU, the athletics department makes up a tiny percentage of the overall university operating budget. Of course, because we make up the majority of the media coverage, the public sometimes wrongly perceives that bad performance on the basketball court or football field means bad performance in the classroom.  It's a case of the tail wagging the dog, and often forces university presidents to be more involved in the athletics program than they would otherwise.
In the end, while you and your president may have a different prospective, you have to remind yourself that they are the boss and the final decision is always theirs. Fortunately, Chancellor Boschini and I have a great deal of trust in each other, and so in the six years I've been here, I don't think we've ever had a situation where we were very far apart on the solution. Moreover, my job is to represent the university and the Chancellor in regards to the athletics department, so therefore: when something does go wrong, I need to be prepared to shoulder the blame.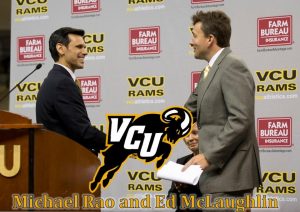 What is the relationship like between you and your president?
I truly value the partnership that I have with Dr. Rao, who is a terrific president and a personal mentor. We have a high level of trust that starts with solid communication. He is a very busy individual who runs a $3 billion enterprise, so I make sure he knows exactly what he needs to know, and before he needs to know it.
Before I accepted the position of Director of Athletics at VCU in the summer of 2012, I made sure that I fit the type of leader that Dr. Rao wanted and that he gave me the flexibility to do the job how I needed to do it. During my interview, he solely talked about the relationship, the communication, the collaboration and the trust between us, and those points resonated with me.
Like any relationship, we have built more and more trust as time has passed, and I appreciate that he values my input on university-wide issues beyond the scope of athletics. I sit on the President's Cabinet and the VCU Diversity and Inclusive Excellence Task Force, and I represent the president at community events not specific to VCU Athletics. He also values my input on national issues related to college athletics, which is terrific, since he is such a respected leader nationally. We worked closely together on his leadership role as a former member of the NCAA Presidential Advisory Group and continue that work with his new role as a member of the NCAA Division I Board of Directors.
Do university presidents tend to be too hands-on or hands-off in their dealings with their athletic departments? Which do you prefer? 
Hands-on management and micromanagement are two very different leadership styles, since a university leader can be hands-on and supportive but not a micromanager who is too involved. I have heard nightmare stories of presidents who want to get into the details of the business, including coaching hires and how money is spent. Due to the high publicity nature of athletics at the Division I level, presidents could potentially be lured to imbed themselves into the management of athletics rather than the overall governance.
I prefer to work for a president who manages with a hands-off/supportive/ empowerment approach, supporting what I do every day but not trying to micromanage my efforts or the department. Thankfully, I have worked for presidents throughout my career who value and appreciate the job that I do and the value that athletics brings to the campus and community without micromanaging at all. Part of my job as the person in charge of our 290 student-athletes is to make sure that our president knows the highlights and potential blind spots for our athletic department. I welcome Dr. Rao's counsel and guidance to give me a university perspective outside of our department.
One terrific example of why I prefer a president with a hands-off management style came last spring when we hired our new basketball coach, Will Wade. I needed to run the search quickly, given the start of the spring recruiting period and the nature of basketball head coaching changes. I couldn't take the chance that we lose our current student-athletes due to uncertainty. Given his busy presidential schedule, Dr. Rao was traveling for university business and unable to meet candidates. He trusted me to run the search to identify a preferred candidate, communicate with him on our status and forward a candidate to him for his approval.
Had my president demanded to be part of the vetting process, we would have lost a week and would have lost interested candidates. Conversely, if he had deserted his university business to be part of the interviews, the university could have suffered. He trusted me to find the coach that fit our program and our university. We found that fit.
How is the relationship between presidents and athletic directors changing? Can these changes cause conflict?
The ever-changing nature of college athletics has changed the dynamic between presidents and athletic directors as well. The conflict can come if egos interfere with work but the closer the relationship can be for a president and an athletic director, the more success each will be in reaching university goals. Most athletic directors at the high levels report directly to the president now, a change that started 10 years ago or so. That change has allowed the relationships to grow deeper and stronger.
As the pressure to win and raise money to fund the athletic department increases every year, presidents and athletic directors must work in much greater alignment on common priorities. At VCU, Dr. Rao made Athletics a top priority as a marketing and enrollment tool for the university and he has honored that commitment vigorously, a key component to our success. Ask any athletic director in the country what are the best AD jobs in the NCAA, and the response will be common: the jobs with the best presidents.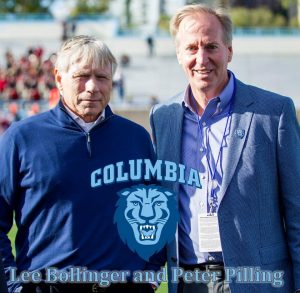 What is the relationship like between you and your president?
Our relationship is excellent. There are so many issues that our president has to deal with throughout the campus that I tend to communicate with quick overviews related to athletic department matters. If he wants to discuss them in greater detail, he will let me know.
It's important to remember that institutions of higher education like Columbia are complex organizations to run with many moving parts, and one of the president's primary responsibilities is ensuring there is one unified message resonating from the collective whole. At many schools the athletics program often operates with far greater independence than other departments within the university, and consequently there is an absolute necessity of close cooperation between the president and athletic director to insure that the department does not stray too far off course. To the same end, it's the job of the athletic director to adjust his values and cultural expectations to that of the president, not the other way around.
Do university presidents tend to be too hands-on or hands-off in their dealings with their athletic departments? Which do you prefer? 
I would classify this area as a clear understanding with regard to the stewardship responsibilities for the athletic department within the mission of the university. Presidents should establish guidelines and let athletic directors make decisions within those parameters. Here at Columbia, I think we've established a basis for when communication and discussion are necessary. Because of the distinct scholarly focus of our institution and our unique model of (non-scholarship) athletics, we are consistently evaluating the academic and athletic balance of our student-athletes. We need to ensure that our decision making process is in line with the overall mission of the University.
For me, it's less a question of preference and more of philosophical approach. Presidents need to be involved in athletics, maybe not in the day-to-day minutia, but at least from a big picture perspective. For an institution of our size, we have a lot of student-athletes and the president is very aware that what happens in our department has a great deal of influence on the rest of the university. That being said, while it would be a wonderful story for us to reach the NCAA tournament this March for the first time since the 1960's, the very next month Columbia will award the Pulitzer Prize, and that is a far greater priority and achievement for our University.
How is the relationship between presidents and athletic directors changing? Can these changes cause conflict?
I believe that increased revenue streams and the cost of doing business have greatly enhanced the requirement for presidents and AD's to communicate. In addition, exposure and media outlet channels (e.g., social media) have substantially added to the scrutiny of athletic departments. It doesn't matter if you're in a Power Five conference or the Ivy League, an athletics director must fully understand their role and responsibility to adhere to the overall goals of the university. Of course, they are far likely to be successful if they have a continuous and unfiltered line of communication between them and the president. You have to establish a foundation of trust, achievable goals and accountability to reach a higher level.  Your decisions should be aligned with your objectives.
President Bollinger and I have discussions on some complex issues that have required more detailed analysis. I've always attempted to present the issues both pro and con on a particular topic along with my recommendation. That being said, Columbia University has been around for more than three centuries, and the reason why it has continued to prosper is that its leaders have avoided making hasty and shortsighted decisions. If it ever comes to the point that President Bollinger and I don't see eye-to-eye on something, then I know we'll take as long as necessary to make sure we're both comfortable with whatever decision we finally come to together.
What is the relationship like between you and your president?
President Kevin Ross has established a culture of care, trust and innovation at Lynn University, and he expects the leaders of each department to champion these attributes. It's my personal responsibility to keep the president informed of any occurrence within the athletics department that impacts the brand of the institution. It's also my responsibility to align the athletics department's values with Lynn University.  This is essential for sustainable success of the department. With this noted, we may communicate multiple times in a single day and there are times when we may not be in contact for a couple days.
The word, "Trust" best summarizes the relationship amongst the leadership team here at Lynn, though it's important to understand that trust is not manufactured but rather cultivated through the consistent exchange of value over a long-term relationship.
Do university presidents tend to be too hands-on or hands-off in their dealings with their athletic departments? Which do you prefer?
I've had the opportunity to serve at eight different NCAA institutions during my career as an administrator, and it's become clear to me that that university presidents have a wide-range of styles when it comes to management of intercollegiate athletics on their campus. I see my priority as serving the university's mission, vision and agenda and want to be empowered to use my best judgment to do that.
The president and I both want what's best for Lynn.  He provides me the autonomy to best serve our student athletes and the athletics department, and he expects in return that I fully apprise him of every situation that could impact the university.
How is the relationship between presidents and athletic directors changing? Can these changes cause conflict?
In general, I believe presidents and athletics directors must be able to articulate the respective matters of the university. A few decades ago a donor, media member or other constituent may not have pursued a response from the president regarding athletic matters. Conversely, the athletics director may not have been as engaged with the university units outside of the athletics department. Yet, because of the fundamental mission of college athletics, as well as its propensity to attract large amounts of media coverage, both parties should be able to speak to departmental issues that have a direct effect on the university and its brand. If presidents and athletic directors are to be successful at accomplishing this, that means there must not only be communication between the two, but  the information that is exchanged must be done so in a language that both can understand.
Of course, these types of interactions may lead to friction between the two administrators. Yet I've learned throughout my career that it's never a good decision to be at odds with your boss. I had the opportunity to work under legendary athletics director Dave Maggard at the University of Houston, and distinctly remember how he interacted with his president. He would always have suggestions and proposals for him but never once did he say to him, "This is the way it needs to be." Maggard mentored me that if I was going to be a successful athletics director one day, I would have to learn how to always place my university's mission and agenda first, and my own ideas and ambitions second.