Athletic directors can have a significant impact on an institution's overall athletic performance. Even though their successes aren't as easily measurable as players or coaches, gauging athletic director performance is incredibly important towards maximizing institutional potential.
An earlier AthleticDirectorU study used a metric based on Learfield's IMG College Directors' Cup rankings in an effort to assign all-inclusive ratings to evaluate athletic director performance.
As a quick refresher, the ratings methodology is measured on a 0-100 scale, combining national ranking, conference ranking, and total Directors' Cup appearances. 
Based on this data, institutions are assigned into tiers. Institutions earn a Tier 1 label, for example, if their average university rating — which dates back to 2005 — is 90 or higher. Here is the scale for the remaining tiers: Tier 2 — 70-90; Tier 3 — 50-70; Tier 4 — 40-50; and Tier 5 — 39 or lower.
Tiers and university averages can help us discover which athletic director tenures have been more successful than others while also understanding which institutions are improving or declining within their respective tiers. These ratings can also be applied to conferences to discover which institutions are performing above or below their conference average.
One of the key components in this followup study is analyzing performance based on athletic director demographics.
A total of 598 athletic director tenures were measured in this study, including every institution that has appeared at least once in Learfield IMG College Directors' Cup rankings since 2005. 
The total number of athletic director tenures based on gender, diversity trends and the institution's athletic tier is below.
Males have occupied 547 of the 598 (91.4 percent) athletic director tenures, including 89.7 percent of Tier 1 positions, 94.7 percent of Tier 2 positions, and 92.9 percent of Tier 3 positions.
Of the 229 institutions that have hired multiple athletic directors since 2008, only five universities have hired multiple female athletic directors in that span. Fourteen universities, meanwhile, have hired at least four male athletic directors.
Caucasians have occupied 86.9 percent of Tier 1-3 positions and 81.7 percent of Tier 4-5 positions. The largest athletic director demographic is caucasian males, who have held 78.2 percent of all athletic director positions.
In terms of performance, female athletic directors have measured at a higher rate than their male counterparts. On average, relative to the university's 15-year rating, females performed 2.7 percent better than their university's average while males performed 1.3 percent worse. 
The chart below shows a breakdown of gender performance vs. university average based on the institution's athletic tier.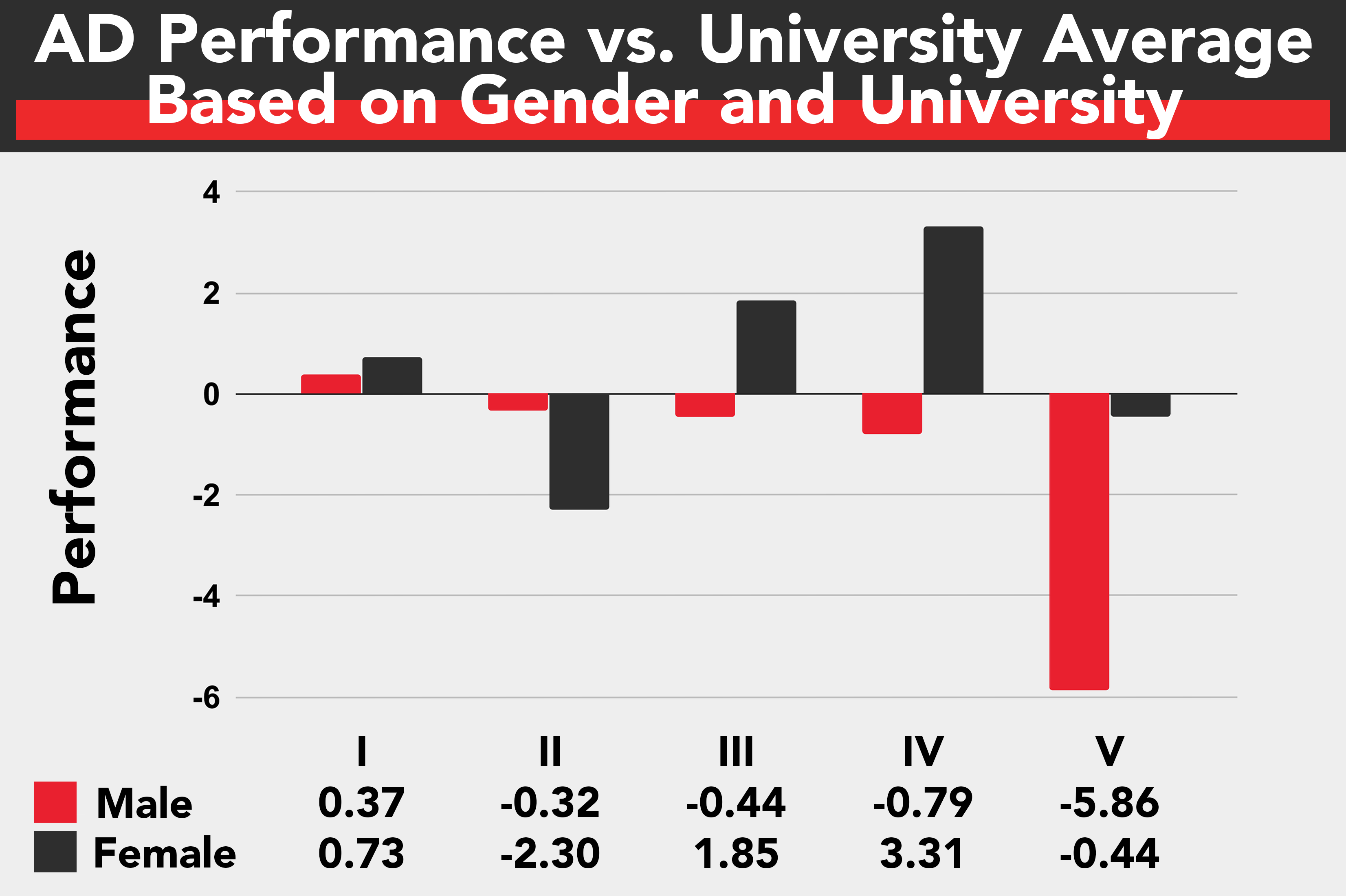 Females outperformed their male counterparts in Tier 1, Tier 3, Tier 4 and Tier 5 positions while males outperformed their female counterparts in Tier 2 positions. The widest gap is seen in Tier 5 positions in which male athletic directors have performed 5.86 points below their university average while female athletic directors have performed 0.44 pointst below their university average. 
Here's the list of active female athletic directors who own a tenure rating at least five points higher than their university average:
Much like the names listed above, several institutions have exceeded expectations within their own conferences by consistently reaching the postseason and winning league titles.
The table below displays each of the universities that have performed at least 30 percent better than their conference average since 2005.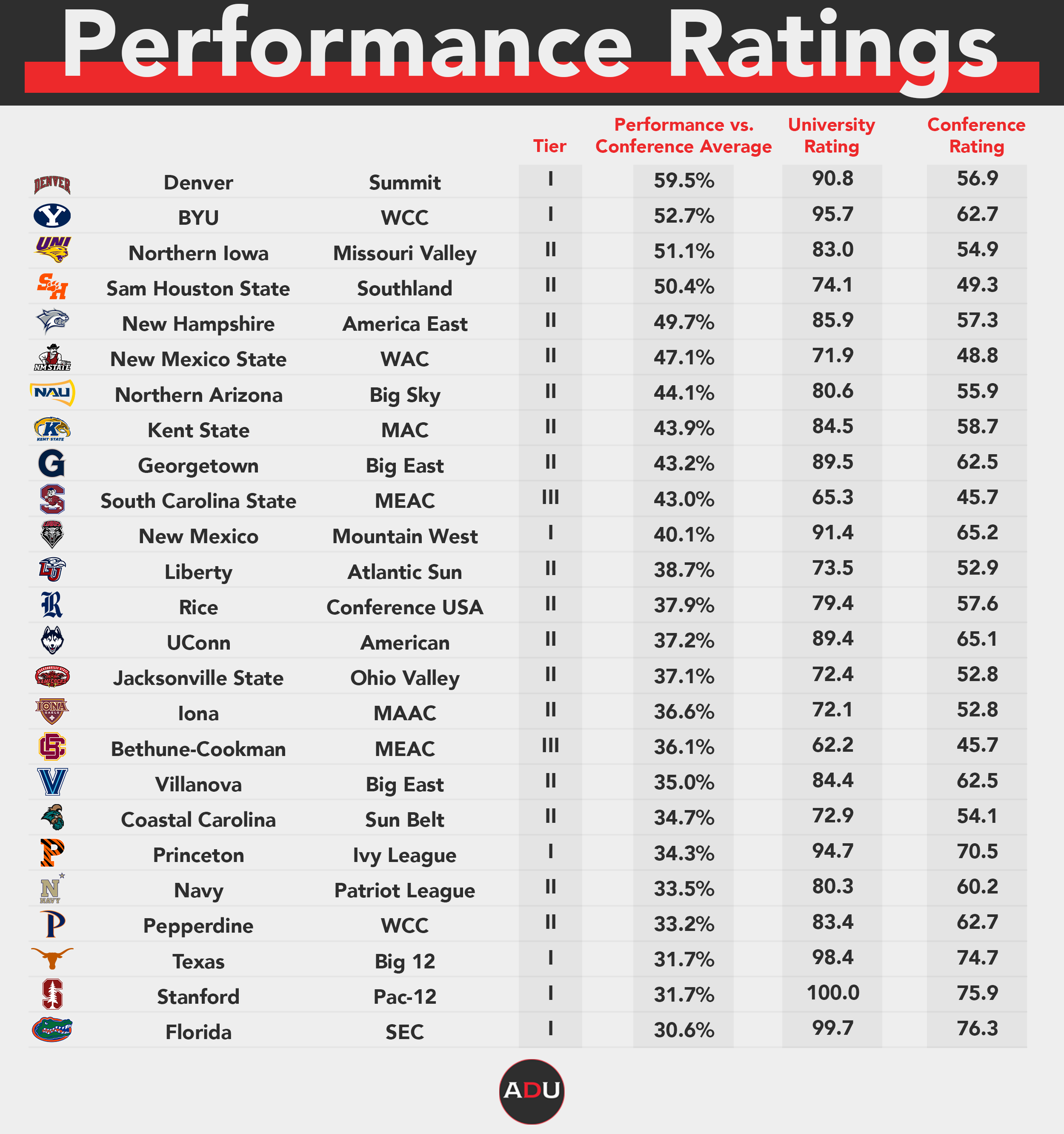 Denver, BYU, Northern Iowa and Sam Houston State have all performed 50 percent higher than their conference average. Out of the Summit League, Denver owns a performance rating of 90.8 in a conference where the average institution is rated at 56.9. Additionally, despite making up just 21.8 percent of all athletic director hires, 10 of the 25 institutions listed above (40 percent) have had either a female or minority athletic director in the same span. 
Though there are no guarantees of athletic director success based on attributes like conference affiliation, previous experience, or demographics, analyzing athletic director performance and how it is achieved is vital information for anyone associated with college athletics. AthleticDirectorU's performance studies should serve as a reminder that collegiate athletic success can be found at any institutional level through several types of leadership.