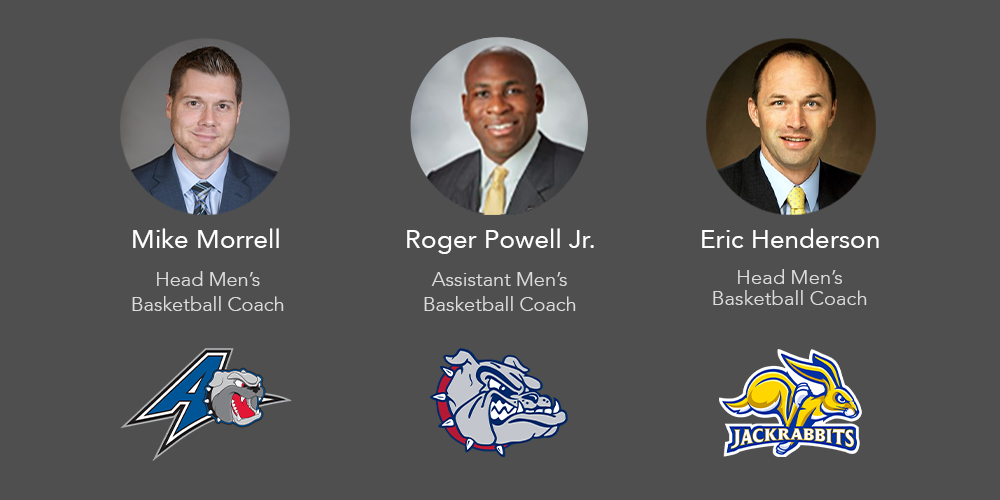 What are the most valuable insights that you have learned from a personal and professional perspective over the last three months?
Mike Morrell (Head Coach – UNC Asheville) – Many coaches get anxiety when they can't plan what their program will be doing a few months from now, but our current reality hasn't been very favorable to doing that. What matters is focusing on what you as a leader have already deemed to be most important, because it will still be important regardless of how things might look like in the near-term future. The goal for us has always been to be better today than we were yesterday, better tomorrow than we are today. Whatever the current circumstances might be, we can still concentrate on improving every aspect of our program daily. And whatever the future might bring, you have to do everything in your power to make sure you come out the other side significantly better than you went in.
Roger Powell Jr. (Assistant Coach – Gonzaga) – For the entirety of my adult-life, as an athlete and now coach, I've known nothing but basketball in the spring time. The last three months have given me tremendous prospective on just how important it is to not take for granted your family and personal relationships. Perhaps just importantly, I've really had to think about how I'm going to maximize my role as a father to my children, and as a leader of young-men, to ensure that I leave a lasting imprint on their lives.
The current circumstances have allowed me to connect with our student-athletes on a deeper level than at any other point in my career. I've had to challenge them in ways that ensure they are better prepared for life after basketball. To remind them that the responsibility for their personal well-being and those they care for – including their teammates – rest on their shoulders, and that the world isn't always going to make things convenient for them. How ironic to think that in an age of social distance, we've been able to grown even closer to one another?
Eric Henderson (Head Coach – South Dakota State) – It's amazing to reflect back and realize how much we didn't know just a few months ago. As coaches, you get locked into the season and are focused on getting your team across the finish line and ready to make a run in the postseason. We're proud of what we accomplished, but we now also realize that our actions off the court are going to be far more reflective of what we stand for than the championship we won on it. Every single member of our team, from the managers, to the student-athletes, to the coaches, has come to appreciate that we will be defined not by what we do in the easy moments, but rather how we choose to deal with adversity.
I'm proud of how our tribe was able to handle our season being cut short and the uncertainty of the last few months. It's easy to complain and feel entitled when something doesn't go your way, but we've shown that isn't who the Jackrabbits are. Instead, our team is serving as an example for the greater South Dakota community on how we must all come together to face this difficult time as a family.
The COVID-19 crisis left many teams scrambling when it came to the recruiting process.  What did your program do from the onset that you feel positioned you to navigate the uncertainty?
Morrell – The Big South Conference tournament ended a week earlier than many of the other conferences. I distinctly remember riding back on the bus from our last game and hearing someone mention that there might be no fans at the NCAA tournament and that they might start shutting down campuses. I realized in that moment that there was a very reasonable chance we wouldn't have access to our facilities, and if that was the case, it was unlikely that we'd be allowed to have any face-to-face interaction with our current student-athletes and those we were recruiting. As soon as we got to campus, I had two of our staff members grab cameras and film every part of the campus they could, realizing that we might have to move to doing virtual tours.
At a school like Asheville, most of the student-athletes we recruit end up signing in the spring after the bigger programs have filled their rosters. That means that the relationships we develop with them are already important, and that was only going to be magnified if they couldn't take a visit to our campus or the schools we were recruiting against. We ended up signing four student-athletes that we feel confident should be playing at a higher-level. I firmly believe we did so because of the rapport and trust we built with them previously, and the legwork we did in the early days of the crisis.
Powell – For a program like Gonzaga, where we have a beautiful campus and some of the top-facilities in all of college basketball, it's always our goal to bring recruits to campus and show them what they'll have access to. But anyone that has ever committed to come play for this program didn't do it because they saw something shiny and new – they came here because of the genuine relationships that the coaching staff has built with them.
We've always prided ourselves on having authentic relationships with every one of our recruits and student-athletes. And while many programs only started leveraging Zoom, FaceTime and other virtual ways of interacting with their recruits because of this crisis, it's a tool that we've always used tool to build rapport with current and future players. If anything, the current crisis has allowed us to stay even truer to who we've always been.
Henderson – From a recruiting standpoint, we were are perhaps more fortunate than some other programs as we have a number of returning players to our team next season. That being said, one of our recruiting approaches – and possibly advantages – is bringing people to campus and letting them see how close-knit our entire athletics program is with the university. We pride ourselves on being a family, and that's obviously much easier to experience in-person than through Zoom or FaceTime.
We weren't able to do much in terms of virtual tours because our campus was closed down before we could do any meaningful filming. Luckily for us, it was not a huge hindrance as most of the student-athletes who have committed to our program the last several weeks have already had a chance to see the campus in person in some capacity. We've had to lean on the relationships we built with those recruits before the lockdown, and so far, it's paid dividends for us.
How have you approached alleviating some of the concerns your current student-athletes have with all of the uncertainty?
Morrell – The biggest part of our program that never changes is communication. Perhaps the most important thing that I ever learned during my time working for Coach (Shaka) Smart is the importance of always communicating with your student-athletes and their families, regardless of what may be happening in your program or the world at-large. Some coaches prefer not to have that type of constant contact, but it's always been a fundamental part of our organization. Fortunately, it's been a tremendous positive for us because we're already used to staying contact with our players. While many coaches are now dealing with the anxiety of not being able to see their players in person, we don't have the same worries because we know that each of them is in good hands and remain focused on improving themselves academically and athletically, without our direct supervision.
Powell – One of the reasons why Gonzaga has been able to maintain a high level of success for so long is because of our emphasis on building a culture that values stability regardless of what may be happening around us. Heading in to March, we were preparing to try and win a national championship, and then we were suddenly forced to pivot and focus on more important things. For some of programs that might have been a bitter pill to swallow, but for our student-athletes, it was just another obstacle they had to overcome on a much longer journey. We emphasize the importance of this perspective constantly, and the crisis has given us a chance to reinforce why the big-picture matters more than whatever inconvenience or challenge they might be facing in a particular moment.
Henderson – As a head coach, nothing matters more to your long-term success than the relationship you have with your student-athletes. Teams that achieve the most on the court are also the ones that trust each other the most off of it, and the first place that trust starts is between the player and their coach. If they respect your leadership, and know that you always have their best interest in mind, then it doesn't matter whether it's a basketball game or a pandemic, they're going to look to you for guidance and trust what you tell them.
But trust has to get built way before the game is on the line or the crisis happens. Which is why our staff always strives to serve as an example to our student athletes of what a trusting team should look like. If our staff doesn't have chemistry, if we don't communicate well with one another, why would be expect our student-athletes to act any different?
That's also why I communicate with each one of our student-athletes individually several times a week, regardless of what's happening around us. When we left campus for the last time in March, we also made sure that our student-athletes were looking out for one another, and have over the last three months asked them to connect with their teammates consistently. We are constantly reinforcing the need for them to be in-sync with one another, crisis or no crisis.