Week IV  (11/23)
Extra Points' Matt Brown and Navigate President Jeff Nelson recap a very impactful week in college football ahead of the fourth CFP Rankings release. The pair review the path to the playoff for Notre Dame, Alabama and Oklahoma State, the impact of major rivalry games and more.
Week III  (11/16)
Extra Points' Matt Brown and Navigate President Jeff Nelson discuss the updated College Football Playoff projections ahead of week three of the CFP rankings. The duo discuss the Big 12's chances of having a representative in the playoff, the impact of Oregon and Ohio State's head-to-head, teams with an outside shot at making the final four and much more (00:00 – 23:50).  Brown is then joined by ESPN's Bill Connelly to chat about Notre Dame's CFP candidacy, Cincinnati's chances of making the playoff and a lot more. (23:55 – 37:05).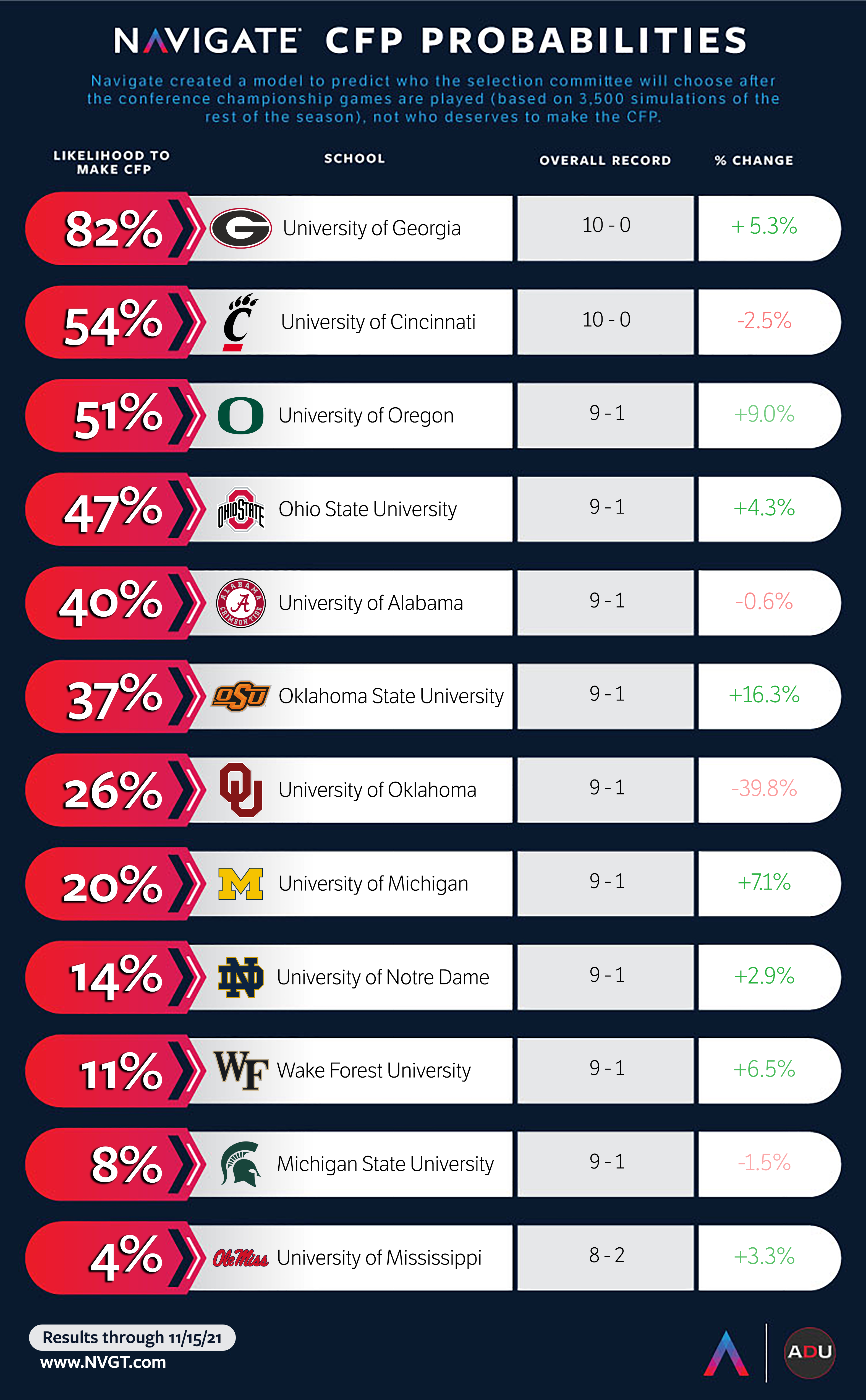 Week II  (11/9)
For week two of the College Football Playoff rankings, Extra Points' Matt Brown and Navigate President Jeff Nelson discuss the underwhelming performances of many top teams, Cincinnati's chances at a top four finish following the initial rankings, impactful games outside of the top teams, Notre Dame's changes at making the playoff and more (00:00 – 16:55). Brown then sits down with The Athletic's Nicole Auerbach to dig into Cincinnati's initial #6 ranking, the chances to make the playoff as a Group of 5 team, unimpressive outings from almost all of the top teams and much more (17:00 – 30:58).
Week I  (11/2)
AthleticDirectorU has again partnered with Navigate to present a rich prediction model – based on 3,500 simulations of the rest of the season – for this season's College Football Playoff. For 2021, ADU & Navigate have also added a podcast alongside the weekly projections hosted by Extra Points' Matt Brown. For the next six weeks, Brown will be joined by Navigate President Jeff Nelson and/or Senior Vice President for Client Strategy Jordan Bloem, plus a special guest.
In this year's first episode, Nelson and Bloem review Navigate's methodology behind the projections, Cincinnati's multi-year ascent, why Ohio State is projected to be ranked above Oregon despite the Ducks' early-season win in Columbus, plus lots more (00:00 – 29:58). Brown continues by welcoming UTSA Vice President for Intercollegiate Athletics Lisa Campos to discuss the undefeated campaign so far for the Roadrunners, which other Group of 5 program can be the model for UTSA and the new contract for Head Football Coach Jeff Traylor (30:03 – 41:05).