Think back to the last time you hired a coach that you eventually ended up firing. Remember how sure you felt about the strength of their candidacy. How confident you were that they would flourish, elevating their program to unprecedented heights. Recall what ran through your mind when you finally decided to terminate them. Despite of all the resources they had at their disposal, all that potential, they somehow still couldn't get the job done. How could you have so utterly misjudged their ability to succeed? How could they have come up short with so much promise? There's a reason why coaches fail at significantly greater rates than comparable executive level with employees in other industries. Yes, the stakes are high and there is immense pressure to preform, the ever watchful eye of the media ready to vilify a coach and their program for the most irrational of reasons. But it's not the pressure that does them in; rather they fail for what should be a far more alarming reason – because we let them.
After spending the last decade managing the careers of collegiate coaches, as well as working closely with athletic administrators to help them build successful sports programs, I have noticed a common ailment that seems endemic to the vast majority of situations in which a promising coach fails to live up to their potential. Social psychologists refer to it as pluralistic ignorance, which when applied to a collegiate athletics setting means: "I (the athletic director) am puzzled by what (my coach) is doing, but assume that because I am not a coach and that I hired them to do this particular job, whatever they are doing is correct." Of course, this concept applies to any working dynamic, and a coach can be equally guilty of assuming that the actions of their athletic director are correct because of the position they hold or their own lack of expertise in the area.
The concept of pluralistic ignorance is a complex one that can also be quite subtle in the workplace. To better understand how coaches and athletic administrators can avoid its manifestations, I sat down with Danielle O'Banion and Josh Pastner to examine some of the learnings they had during their respective stints as rookie head basketball coaches at Kent State University and the University of Memphis. Both faced unique challenges during their tenures that are most certainly shared by their peers across the country – especially ones who are leading their own programs for the very first time. Through their anecdotes and introspective reflection, we can hope to prevent the same mistakes that both coaches and athletic directors make before it's too late.
Coaching Is Not A Zero Sum Game
Josh Pastner: When I took over as head coach of Memphis, my situation was incredibly unique because at the time we had just completed one of the greatest runs in the history of college basketball. When Coach Calipari was deciding on whether to leave for Kentucky, there was a helicopter flying around his house trying to look inside and figure out what he was doing.  This wasn't a hostage negotiation; this was a college basketball coach trying to make one of the hardest decisions of his career.When he finally left, nobody wanted to follow in his footsteps. There must have been a dozen coaches who ended up getting raises for turning down the job. There I was, literally the last man standing, and at 31 years old I was given the keys to a multimillion dollar organization with maybe five scholarship players and told, "Keep it up". Most times when someone gets their first head job they aren't under the microscope like I was.  Usually rookie head coaches are able to make mistakes and learn without having every one of their moves overanalyzed. At Memphis, with the intensity of the job, everything I did as a coach including every time out I called, player recruited, and comment I said to the media was debated and analyzed endlessly on talk shows and internet forums.
There's no question I made mistakes during my time at Memphis, and due to intense scrutiny from the media and the fan base, those mistakes were very public. My administration was very supportive of me when I got the job and I understood that they too had pressures put on them since men's basketball supports the entire athletic department financially. Yet the expectations of the program were not lowered at all, and so I had to navigate through them as best as I could by trying to learn on the job. You have to give your coach time to grow and learn before judging them without complete information.
Danielle O'Banion: I spent a great deal of time during my tenure worrying about being perceived as though I was making excuses about why we weren't winning instead of educating the administration about the challenges that we were facing. It felt in many ways as though my coaching career had been dwindled down into nothing more than a tally sheet – too many checks in the wrong column and out the door I went.
When I took over the program, the university granted open-releases to the incoming recruiting class and several of the commits left. I was assured that I would be able to make any roster changes necessary at the end of my first season, but I never got the chance. We were already at a tremendous disadvantage talent wise, but who was I to complain as a first-year head coach? Yet as my tenure went on and the lack of talent handicapped our ability to gain positive momentum, any feedback I received instead highlighted only the reasons why I should be winning.
Case in point, we were provided an academic advisor that was specifically assigned to men's and women's basketball. But the advisor traveled almost exclusively with the men's team and for all intents and purposes, we became secondary on the priority list. Besides, based on the salary that they were paying for the position they could only attract entry level candidates who had little experience handling the work load they would now have. At the end of the day, having the advisor was counted as a check in my box, when in reality there was no real advantage.
Key Takeaway:
Because of the uniqueness of the profession, administrators cannot simply judge their coaches based upon what often amounts to an arbitrary list of performance indicators. Nor should they use a previous coach's record as a rigid barometer for a current coach's production. Yes, wins and losses matter, but coaches have to be evaluated across a comprehensive set of competencies and benchmarks. More significantly, whether it is evaluating coaches or any other staff members, listing all the reasons an individual should be successful often does nothing more than act as confirmation bias for the likely negative conclusion we have come to in the back of our minds. It's important to remember that just because there are big expectations for the program, doesn't mean a new coach should automatically be judged by those expectations.
If You Don't Know, Ask. If You Do Know, Ask Anyway.
Danielle O'Banion: I admit that I should have done a better job of seeking clarity in person. For instance, we had a situation in which our strength coach was frustrated that he was dealing with one of my assistants and not with me. With so many other things to worry about, I assumed (wrongly) that it was simply a matter of delegating as much as possible. Eventually I realized that it was important for me to meet with our support staff directly, if only to let them hear it straight from the horse's mouth. The entire dynamic of the relationship changed after that.However, the issues that arise from not communicating directly are also influenced by the level of experience people within the organization have. When I was at the University of Minnesota, I wasn't dealing with 22-year-old athletic trainers or equipment managers, but instead with people who had been doing their job for decades. At the mid-major level that's not always the case. You will often find young people working in support roles who need direct lines of communication to avoid misinterpreting the intended message. The issue is exacerbated when you have young assistant coaches who themselves have little experience managing dynamic relationships in the workplace. They often try to distance themselves when delivering difficult messages (on behalf of the head coach) instead of embracing the responsibility as a leader of the program in their own right. It leads to a great deal of inconsistency and frustration.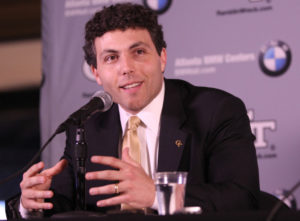 Josh Pastner: I've always been a glass overflowing type guy; I really try to see all the positives in any situation, even when others might have trouble finding them. That being said, I recognize that I personally need to do a better job of not getting too high or too low internally depending on the outcome of the game. I take losing internally as badly as anyone, but that's also why I don't take winning for granted either. I know people don't understand why I get so elated after winning a game everyone expects us to win, but I also recognize that the margin between winning and losing is razor thin. When you lose, you feel as though you are letting your athletic director, your players, and your entire school down. It can be absolutely brutal, and make you sick to your stomach. I hope as I continue to grow and move forward in my coaching career, I can do better in not identifying my self-worth based on wins or losses.
This is why I am learning to stay out of the business of expectations and stick to the business of standards. I believe when you get into the game of "expectations", you always get let down. Think about anything in life that you have had high expectations for… nine out of 10 times they failed to be met and you were left with disappointment. I think a world of standards is a better way to live and hold yourself and your team accountable. That being said, standards start with having a clear and shared vision between both the athletic director and coach. If there is mutual agreement from day one, then no one can be left disappointed… either you achieve the goals, or you don't.
Key Takeaway:
Coaches of all levels of experience can sometimes be overwhelmed by the number of duties they have and decisions they must make on any given day. Particularly with programs that have less resources and support personnel, administrators must make an extra effort to help facilitate communication between coaches and other department employees, and insure that everyone is operating on the same page.
 Likewise, administrators must not forget that their coaches are humans too, and their ability to perform at a high level can often be handicapped by their ability to cope with the stresses of their job. Thus, one must not only be cognizant of their coach's emotional well-being, but also make a conscious effort to act as a support system for them when things seem bleak. How many times have you taken the time to assess whether a coach's poor performance is something that is really just a result of their struggle to cope with a particular challenge?
You Can Survive With Talent; You Can't Win Without Commitment
Josh Pastner: After seven years at Memphis as a head coach, I learned that the most important aspect of being a successful coach and leader is that all members of your team (which includes staff, support staff, players, and managers) must be fully aligned with the vision of the leader and the culture that he/she wants with their program.  If someone is not fully aligned with the vision, drive, and culture of what the leader wants then it can throw a wrench in the direction in which you are trying to head. In retrospect, being able to look at myself in the mirror and recognize the areas at Memphis that I did well and the areas where I needed growth, allows me to have better self-awareness as I start at Georgia Tech.I admit that I was less than self-aware early on in my head coaching tenure. For example, while I knew the importance of surrounding yourself with assistants who can help augment your strengths and offset your weaknesses, as a first time head coach, I did not have a clear vision or understanding of what my strengths and weaknesses were in the first place. Inevitably, when hiring my staff, I did not do a good enough job of making sure they understood my vision, drive, mission, and how they all aligned. As great of a communicator as I thought I was, I probably was not as good as I needed to be in my initial stages as a head coach, but it's certainly something that I have improved upon since.
While athletic administrators need to give their head coaches full authority to hire the staff they want, coaches also need their expertise to help them assess the types of people they should have on their staff. Having another set of eyes and ears in helping make the decision of your staff make-up is critical. Of course, that requires some vulnerability on the coach's end, which is not an easy task for individuals who have spent their entire careers projecting confidence. But the truth is that asking for help, for guidance, and for advice is not a sign of weakness but rather a sign of strength, especially when it involves the hiring of others because in the end this is a people business.
Danielle O'Banion: While every level of college athletics brings certain challenges, it took me a while to recognize that when you're at the mid-major level, it's extremely difficult to hire people that are good at every function. When you're at a school with competitive constraints and the job isn't necessarily where you want to spend the rest of your career, finding someone that's equally great at recruiting, on-court coaching and program management can be a fool's errand. I learned that you have to focus on hiring people that fit a narrower role and can excel at one particular area.
Even when we finally had the right people on board from a qualification standpoint, I realized that I was spending too much of my time micromanaging. It wasn't that my staff wasn't competent enough to do their job, but rather that I wrongly assumed that everyone was on the same page with me when it came to program building. In reality, and not to their fault, many of them perceived the job as a stepping stone. That didn't mean they weren't willing to do their work, but they didn't have the same type of long term vision I was trying to implement. How can you establish a culture within an athletic department, or any organization for that matter, when the people you are leading always have one foot out the door?
This issue isn't exclusive to coaches either. If you're trying to get your support staff to come in on a Saturday night to do work (when their goal is to get to the next level with as little effort as possible) you're in for a rude awakening. Everyone on your "team" isn't going to help you make it, not because they aren't great at what they do, but they aren't going to do more than they have to. As Ben Horowitz discusses in 'The Hard Thing About Hard Things', the problem only gets worse over time because once people recognize that others are getting by on minimum effort; their own work ethic converges towards the lowest common denominator.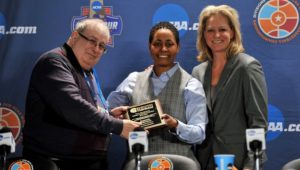 Key Takeaway:
Athletic administrators need to be aware of how their own culture and departmental standards are influencing their coach's ability to build successful programs. Particularly at the mid-major level and schools with unique operating constraints, constant turn-over in staff can prevent culture from taking root and will trickle down to affect every facet of a department's operations. Finding ways of intrinsically motivating employees to do their jobs and preventing a proverbial revolving door might be the most important job an athletic director has.
Furthermore, coaches of all experience levels often struggle with finding the right mixture of assistants and staff with whom to surround themselves. Young coaches especially may not have the self-awareness necessary to realize what their weaknesses are, and can also lack the maturity necessary to delegate tasks they have traditionally done themselves. Administrators must not only help their coaches assess which skills they need to improve and which they need to outsource, but also assist in helping the coach identify the type of culture they wish to have within their programs and then help them seek out the individuals that share those values.